1.September 1998
At 6 o'clock morning, we all woke up and we started to survive our tents. I decided to do the same, despite of Boris's protests. We packed our tent. Then we helped Emil and Hilda. Strong wind blew away cover from Emil's tent and we searched it half hour. We found it at last. After shower our mood rapidly improved. Fully packed we visited local coffee shop, where we bought some coffee and cakes. We had enough time, that we spend with visiting of Skaftafelljokul iceberg moraine. It was near of camping and it wasn't problem to find it. But strong wind blowing from iceberg embarrassed our advance.
---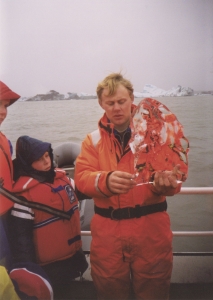 We left our camping at afternoon. We stopped at Jokulsalron. It is iceberg lake. It was raining, as usually. I decided to visit lake with terrapin. At first we had to wear orange life jackets. Then our terrapin went on the lake. It was interesting experience, and it all looks like somewhere in Greenland. From the water sticked up blue icebergs and I made a lot of photos there. One man from crew followed us on another boat. He brought us 1000 years old ice. We didn't have whiskey and we only touched it. After half hour we returned on the bank wet and cold.
---
Then we continued to Hofn, where we had to spend next night. It was still raining outside, and everybody was in bad mood from that. When we realized, that we must build our wet tents again, wasn't very pleasant. At last we made agreement with Palo and we accommodated at the near youth hostel. Difference between price of this type of accommodation and camping we paid ourselves. It was a fair offer. It was raining outside, but we were in warm place. We took shower, prepared a good meal in the well equipped kitchen. Palo found Black Velvet and offered it to our group. Evening we spent discussing with 2 girls from Germany. They travelled through Iceland severally. We slept in our sleeping bags, but in normal beds, what was unbelievable comfort.
---
Iceland and Faroe Islands Links
Photos Iceland and Faroe Islands 1997
Iceland travel facts
Iceland Google map
Faroe Islands travel facts
Faroe Islands Google map